There exists, in a pocket of the central New Jersey Coast, an area that we'll refer to as "Bruce Springsteen Country"--an area which includes the namesake of his album "Greetings from Asbury Park", and stretches between Monmouth and Ocean Counties. And while everyone is fiercely proud of their hometown boy, there is so much more on offer here than just the possibility of a Boss sighting: it's also home to some of the most memorable black and white cookies, crumb cake and pastries we've ever tasted. On a recent visit, we sampled a number of the local bakeries; and while we didn't see Bruce along the way, we did spy (and taste) all sorts of other good things:
America's Cup Coffee Co.:
This place looked pretty chain-y from the outside, but what an unexpectedly sweet surprise to find a beautiful display of alluring homemade biscotti. It was toasty, crunchy and satisfying. The coffee was just-OK, but the biscotti made our visit worthwhile.
633 Cookman Ave., Asbury Park; (732) 988-2000.
The Baker Boys:
The New Jersey coast's answer to NYC's
Billy's Bakery
, their pastries stand alone, with a meltingly delicious apricot bar, moist cupcakes with jaunty peaks of frosting, and awesome cookies. Pastry chef Carol is pretty much our NJ idol. 69 Main Ave., Ocean Grove. Check out their brand-new location in Asbury Park's Convention Hall too!
69 Main Ave., Ocean Grove; (732) 361-8839.
Bella Sogno:
Make like Tony Soprano at this traditional Italian-style bakery in Bradley Beach, adjoining an espresso joint filled with an assortment of "Jersey" characters. The cookies are our pick here, from the buttery lemon twists to the "Chinese Cookie", whose name we've never quite understood but we love the taste.
600 Main Street., Bradley Beach; (732) 869-
Chez Cakespy:

OK, so this isn't a bakery or even open to the public, but we couldn't resist sharing one of the true highlights of our trip, a three-tiered chocolate cake with pink buttercream frosting made by Cake Gumshoe Margie, which was unbelievably rich and perfect. The occasion was happy too: a 6-month wedding anniversary cake for Mr. and Mrs. Cakespy. Sigh.

Cake Gumshoes Margie and Kenny's House, West Belmar.
Delicious Orchards:
A bit off the shore path but worth the drive, Delicious Orchards is a gorgeous farm market featuring Apple Cider Donuts (available online) and great pies; though we hear their crumb cake leaves something to be desired.
36 State Rte. 34 So., Colts Neck; (732) 462-1989. Online at
deliciousorchardsnj.com
.
Dunkin' Donuts:
They say that America Runs on Dunkin', and we don't know where this is more clearly illustrated than in New Jersey (anyone who's seen the line there at 8am will know). No, their donuts are not the best we've ever had, but there's just something about Dunkin' Donuts; being based on the West Coast, we'd be remiss if we didn't pay homage. V
arious locations; online at dunkindonuts.com.
Espresso Mio:
They don't make it in house, but their crumb cake was gorgeous, with the perfect crumb-to-cake ratio (roughly two thirds crumb, one third cake) and a heavenly dusting of powdered sugar.
Their scones, which looked quite good, are made in-house. Bonus: their coffee stood up to Seattle-based Mr. and Mrs. Cakespy's standards too!
1005 1/2 Main St., Belmar; (732) 280-9001.
Freedman's Bakery:
Walk right past the cakes and go for a black and white cookie here: they're perfect. The texture of the cookie and consistency of the frosting simply cannot be beat, in our book. Make like Jerry Seinfeld and see if you can get black and white in every bite.
803 Main St., Belmar; (732) 681-2334.
Hoffman's Ice Cream:
T
his place rules the dairy arena with rich, flavorful homemade ice cream. We have a guilty place in our hearts for the bubblegum ice cream, which, if pressed to describe how it tastes, we would have to say "pink".
569 Church Street, Spring Lake; (732) 974-2253.
The Macaroon Shop:
The Cakespy crew is split on this one: Head Spy Jessie likes their crumb cake; Cake Gumshoes Bridget and Kenny prefer the namesake macaroons; Cake Gumshoe Margie doesn't care for their goods at all. Mr. Cakespy just eats what we tell him to eat. See for yourself!
107 Main St., Avon-By-The-Sea; (732) 776-6363. Online at
themacaroonshop.com
.
Mueller's Bakery:
Gorgeous cookies, and a wonderful neighborhood to walk around in during the summer. Their crumb cake and black and white cookies are our picks.
80 Bridge Ave., Bay Head; (732) 892-0442. Online at muellersbakery.com.
Pianconnes Deli and Bakery:
Ogle
at the cases upon cases of deli and bakery treats: butter cookies, Italian pastries, and cakes. Don't go in a rush though; service can be slow, and lines are often long. It's worth the wait.
804 Main St., Bradley Beach; (732) 775-4780.
What's For Dessert:
The service can be gruff, but their cakes and pastries more than make up for it. Perfect shortbread cookies, cupcakes, and a gorgeous crumb cake all await you in a tantalizingly scented sanitary white bakery.
2407 State Rte. 71, Spring Lake Heights; (732) 974-3003.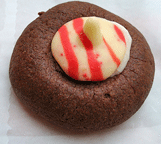 Wish You Were Here:
Half souvenir shop, half cafe, this is an absolute treasure, with cookies like you wish your mama made, beautiful brownies, and creatively flavored homemade truffles in flavors like mango-habanero and peanut butter and jelly.
612 Cookman Ave., Asbury Park; (732) 774-1601.
Got any other hot NJ tips? Email us!