The theme of today's post is GREEN. That's the color associated with St. Patrick's day, and the color of all the food you should eat on March 17. Here are 10 green foods that can help you celebrate. Pairing with green beer optional.
1. Mint chocolate chip whoopie pies
Whoopie pies are great. But whoopie pies inspired by the prettiest ice cream flavor? All the better, and very appropriate for St. Patrick's Day. Recipe here.
2. Watergate cake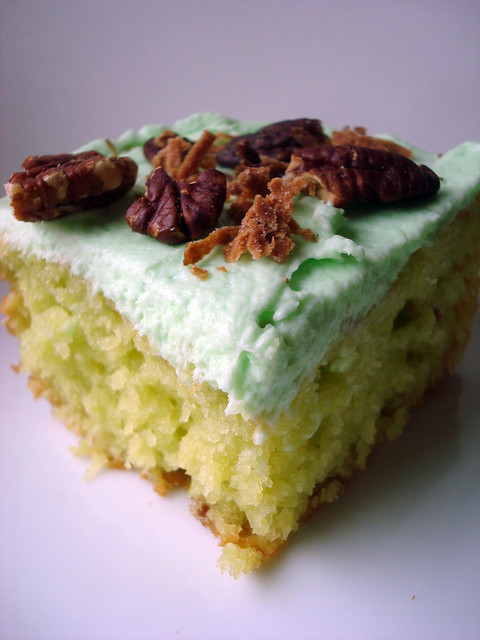 The connection to the scandal is tenuous at best. Following Watergate, many foods flavored with pistachio (said to be a favorite of Richard Nixon's) were dubbed after the scandal. This cake is only scandalous in its deliciousness. Recipe here.
3. Green Irish soda bread
Well, this one's easy. Take your favorite Irish Soda bread recipe...and add green food coloring. I much prefer this method to letting it mold over. The food coloring is a more delicious variation of green. Recipe here (untinted).
4. Candy salad
Possibly the tastiest method of eating your greens, ever. That isn't actual salad - it's candy and cake configured to look like it! Recipe here.
5. Princess cake
I can't say with 100 percent certainty why it's green, but it typically is, and it's a fun and fancy food. Featured in my second book, The Secret Lives of Baked Goods.
6. Shamrock shakes
Photo via Flickr member vasenka
It's not up to me to judge whether you make a homemade version or buy it at the evil empire fast food retailer. But it is a classic green food around this time of year. Homemade version recipe here.
7. Pistachio chocolate chip cookies
This is one of my favorite cookie recipes in the world. Find out why...Recipe here.
8. Something healthy
You can consider this intermission, or consider the fact that I made a banana and kale smoothie, and it actually tasted good. Recipe here.
9. Avocado cake
This remains one of my favorite recipes for Serious Eats. It basically employs avocado wherever a normal recipe would call for butter (I actually used butter, too, though). Recipe here.
10. Green tea ice cream
Photo via Flickr member Dong Kwan
I seem to see green tea ice cream on frequent offer at sushi places, but not so much at ice cream parlors. If you want, make your own, for a dignified green treat. Recipe here.
11. Mint oreo stuffed brownie cupcakes
Go ahead. Stuff your cupcakes with mint fudge covered Oreos. It's only St. Patrick's day once a year. More info here.
12. Butter mint bars
A sugar cookie base with a thick, rich buttercream topping. I don't care that they're a Christmas treat. They're tasty right now, too. Recipe here.
13. Pistachio pudding pops
So simple. So perfect. This is my favorite flavor for Jell-O pudding pops. Or, fancy them up and make a two-tone variation. Recipe here.
14. Avocado pie
Pie? With avocado? Believe it. It's actually quite good. Recipe here.
15. Mint chocolate chip ice cream
Photo via Flickr member aukirk
If you are one of those people who prefers the white variety of mint ice cream, then please, stay in bed all day on the 17th. I suggest, for the full experience, going to a local ice cream shop and picking this up. Read about how I shipped a mint chocolate chip ice cream cone to myself.
16. Mint Nanaimo bars
Nanaimo bars are delicious any time of year, and making them minty gives you a reason to make the middle green and to call them St. Patrick's day appropriate. Recipe here.
17. Frog cupcakes
I suppose that you could make these sweet treats, but it's more fun to find them in their natural element. Read my essay about the Curious Case of the Frog Cupcakes.
18. Green buttercream
If you're making cupcakes on March 17, I don't care what flavor they are. Tint your buttercream green. That's all.
19. Mint chocolate chip cookies
All it takes is some doctored up cookie mix to make these tasty green cookies, which are inspired by the ice cream flavor. Recipe here.
20. Green bagels

It's possible that your local grocery store or bagel shop has green bagels on the 17th. If they do, buy them. You must! Or, tint a batch of your own. (Untinted) Recipe here.
BONUS: rainbow cookies
They're a treasure, and they're not at the end of the rainbow: they ARE the rainbow. Or, make them all green for a St. Patrick's day treat. Recipe here.
What's your favorite green food?